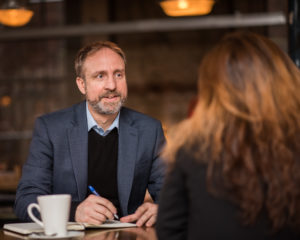 Engaging to work with a therapist can be daunting. To make this step as easy as possible for my clients, I am offering an initial complimentary 20-Minute consultation.
In a private and confidential space, you get the opportunity to share information about your current situation, what challenges you are faced with as well as what makes you consider therapy as a potential way forward.
Whether it's an issue in the past, present or future, whether it is emotion, thought or behaviour based, the first step for me is to really listen to you. For me to see the issue through your eyes, you must feel heard, valued and safe.
My training in therapeutic and coaching methods as well as my calm, open and empathetic communication style, allows me to connect with you on a deep human-to-human level.
This helps me to understand more about your situation based on which I will share my thoughts and ideas how I believe I can help you to move forward.
Our initial consultation takes place via a phone / video call or if circumstances allow through a face-to-face meeting. During our friendly, safe and confidential conversation you also get the opportunity to get to know more about my therapeutic approaches and can ask any practical questions you may have in regards to the overall process, appointment times, fees, policies or duration for our sessions as well as any other topics on your mind.
So please don't suffer in silence. Don't live a life in discomfort where you feel like you are struggling too hard by yourself not getting any or the full enjoyment of each day.
Reach out today via the link below and let us connect for our initial complimentary consultation. This will be the exciting first step on your personal development journey from where you are now to where you truly want to be.